"We're Responsible for Half the Rehabilitation-Option Golden Visas in Portugal": Mercan's Jerry Morgan
Mercan Group
Sponsor
---
Mercan Group landed in Portugal in 2015 and quickly consolidated a notable place in the panorama of the Portuguese Golden Visa Program, one of the most desirable in the Schengen area.
With a strong position in the property rehabilitation market for the hospitality business, and already having more than 50% of the Golden Visa market in this segment, Mercan group has created a cohesive and highly dynamic structure, which guarantees its investors the return of their investment, as well as a profit and -as icing on the cake – a valuable passport, or a permanent residence permit. And the investor did not have to worry about anything throughout the process.
Divided into three fronts, Mercan Group was able to create a well-oiled machine that, in addition to investor remuneration, also generates jobs, both in terms of the construction and operation of hospitality units.
Leading the Mercan Group is Jerry Morgan. The Canadian founded the company in 1989, initially focused on Canadian immigration programs but now with several offices around the world.
In an interview with IMI, Jerry Morgan explains why Portugal is increasingly attractive to investors in the Golden Visa program.
Jerry, you have been in the Portuguese Golden Visa arena for years and have seen the program undergo several changes. What are some of the lessons you have learned along the way, both in terms of the program's successes and failures and your own company's market positioning?
Jerry Morgan: The complexities of the local system are one of the most important points to keep in mind when placing a bet on a country. If we want this bet to reach levels of excellence, it is essential to assemble a top team, highly motivated and oriented to read the peculiarities of the system, that knows how to interpret them and thereby streamline the processes, and make them safe and effective.
We guarantee a high-quality product, based on a segment that operates with renowned brands, among which we are proud to mention Hilton and Sheraton/Marriott. As all agents in this market area know, working in a specific segment is only possible when we have the critical mass and experience to be able to meet the high level of demand in these types of projects.
It is also essential to have a keen eye for discovering the best locations, in areas of great strategic importance, which allow projects with good returns on investment. We put together a strong development team both financial and engineering to overview and discover our properties, providing full confidence not only to investors but also to me as owner of the company, since I am mostly outside Portugal.
In Portugal, the Golden Visa program is increasingly desirable. They've lowered the age of residency to get immediate nationality (for example, kids born after at least one parent has one year of residency in Portugal, are automatically Portuguese), and the minimum time of residency to be eligible for citizenship has decreased from six to five years.
But this is not all: We believe we have the best investment exit plan in the Golden Visa market, in which we offer a solid return to investors in an operation with all comforts and security.
Because Mercan chiefly focuses on the B2B-side of its business, working with partners who sell your Portuguese assets under their own names, most people are not aware of how dominant your position in the Portuguese market is. Why have you chosen to keep a low profile in terms of branding and instead focus on developing the product? And what share of the golden visa market overall, and the refurbishment segment specifically, would you estimate Mercan occupies?
Jerry Morgan: We are committed to the execution of the projects; we always want to reach the highest levels of quality so that our partners are duly rewarded for having chosen us. We have never looked at our own external promotion as a priority because, for us, the real priority is to provide the best projects that allow our partners to shine and consolidate their reputation.
But, yes, in terms of our position in the GV market linked to rehabilitation, in the EUR 280,000-350,000 range, I venture to say with some comfort that we are responsible for about half of all the Golden Visas in Portugal.
You have a broad portfolio of 12 different developments around Portugal. When determining which property developments to place in your portfolio, on which criteria do you place the most weight?
Jerry Morgan: We currently have a portfolio of 12 projects, but we will expand it in the coming months. We recently laid the first stone for the Renaissance Park Hotel project, in Porto, which brought together 160 investors, for an investment of EUR 56 million. It is a project associated with the Marriott International group, which clearly shows the reach and the way of being of the Mercan Group.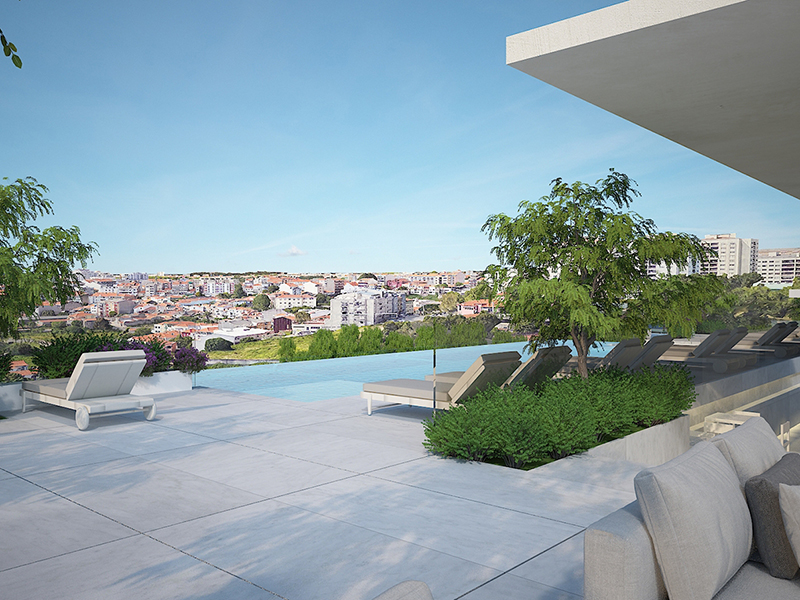 This project also includes the construction of an urban park, in addition to job creation, the stimulation of tourism, and local and national development. These are very important aspects for us. The most recent projects are
Porto Art's Suites, where a GV candidate places investments starting at EUR 350,000, with freehold;
Holiday Inn Express Porto, where placements start at EUR 350,000, which comes with a buyback and a guaranteed minimum 3% return on investment; and
Holiday Inn Express Évora, where investments start at EUR 280,000, also with buyback.
We have already completed several projects that made us very proud, such as Tapestry by Hilton. Our idea is to, in the future, enter among the top 5 hotel providers in Portugal.
Our track record is very favorable: In the 38 projects that we have already carried out in the United States, in places like New York and Florida, among others, and which involved a total of 800 investors and more than US$1.5 billion raised, we never had a project that went wrong.
When we are in the process of evaluating and choosing the properties that will best fit into our portfolio, the choice of location is the key to this whole process. But it is not an isolated key, as there are two more important axes for the consolidation of our strategy:
Association with a strong brand, which relies on our knowledge and expertise, and the guarantee of taking back the property in which the investor has put his money.
We currently have three options:
We give a 3% return on investment and buy back the property when the value in question is EUR 350,000.
In the case of an investment of EUR 280,000, we only guarantee the re-purchase of the property because the occupancy rate of the locations where the EUR 280,000 projects are is not enough to offer both buyback and a return of investment. If it is an individual property, conditions vary with the project.
I'll give you a concrete example, which reveals how we differentiate ourselves from the competition: The Holiday Inn Express Porto, with 95 rooms, represents an investment of 21 million euros, for which we ask EUR 350,000 per investor, that is, 60 investors. In this project, we guarantee a return of 3% and, at the end of the six years, we guarantee to repurchase the position if the client wishes to sell. And we also provide to each family, under our responsibility, seven free nights after the hotel starts operation, to comply with the mandatory days in Portugal within the scope of the GV process.
B2B work is considered more complex than B2C, and for a company to excel in it is no small feat. What tips do you have for other companies starting out in B2B sales, and what makes Mercan so successful in that field?
Jerry Morgan: Above all, the development of trusting relationships with our partners. It is an indispensable point for the projects to follow the best course. Our partners place a high value on our track record, but they also really appreciate the fact that we offer a simple product that does not cause headaches.
The properties we place on the market are clearly superior to what is proposed by the competition. And not only do we have a competitive product, but we also treat our customers very well. It is in this way that we can establish a relationship of great trust. And, of course, we always pay on time.
One of the most challenging things to overcome is to provide clarity on the process and be as transparent as possible. We offer several tools to overcome that, like provide access to the investor online portal, where they can see construction reports and several other information from all properties we have. Besides that, we give quarterly reports on the construction and on the allocation of the funds.
A very important moment is also the hosting service we give to each investor when he comes to town to see the properties and later when they come with families to do biometrics, we even offer airport pick up as well as advantageous conditions at our hotel properties.
This allows the investors to feel confident and provides also an extra layer of comfort to all our partners as they know that their level of service will be upheld even if they are not present with the clients in Portugal.
Having worked with partners from all over the globe, what insights can you give into what are the biggest challenges you face on a day-to-day basis?
Jerry Morgan: One of them is the new digital channels. In the past, the process used to go a lot through family offices, but now it is all online. Of course, no other current way of doing business can be imagined, but it still poses new challenges, and the speed of information requires a very strong pace and agility in decision-making processes. That is why it is essential to have a cohesive and competent team that knows the local and international reality and knows how to respond consistently to these demands.
But there are several issues that can pose daily challenges. One of the main ones is the exchange control mechanisms, which often limit the magnitude of the operations. There is now a set of possible alternatives, such as digital currency, which is gaining popularity and space, but it is still too early to be sure if it will be part of the solution given the difficulties in making funds transfers. How are we going to be able to securely integrate these types of currencies into investment channels?
And there are several other obstacles to consider, such as opening bank accounts for certain nationalities, making co-ownership transfers to Korean investors, or even the US$250,000 annual transfer limit by Indian authorities, all of which are a brake on agility that these investments require.
How do you reckon the upcoming changes to the GV will alter the investment landscape? And are you worried some of your projects may be disadvantaged?
Jerry Morgan: We could not be happier with the changes. They have placed us in an even more privileged position because, at this moment, we are the ones who have the right key to open the GV processes.
With the new legal regime, only those who invest in residential properties located on the islands of the Azores and Madeira or in the interior regions will be able to obtain residence permits in Portugal. In other words, there are no more visas for foreigners who want to buy a residence on the coast (such as the Algarve) or in the metropolitan areas of Lisbon and Porto.
Does this change in the law represent the end of the success of the Portuguese Golden Visa? No, not really, because we are the solution. The purchase of non-residential properties does not change with the new law and therefore remains an excellent way to invest between EUR 280,000 (in sparsely populated areas) and EUR 350,000 (in Porto, Lisbon, and Algarve) and obtain the Golden Visa. And the primary option would now be hotels and the hospitality business, with the guarantee of a buyback and return on investment in most of the cases. That's us.
In terms of hospitality rehabilitation, where we have 50% of the market share, this category will remain the same and we will continue to offer EUR 280,000 and EUR 350,000 investment opportunities at least until the end of 2022 with a strong possibility of renewing again further.
Finally, the fastest-growing segment (proportionally) of the Portuguese golden visa is the investment fund option. As someone with a lot of EUR 280,000-350,000 refurbishment projects in your portfolio, you are in the same price class as funds, at least until next year. Do you think the competitive balance will tip in favor of one or the other (refurbishment vs funds) and, if so, how are you positioning yourself in anticipation of these changes? Is Mercan considering dabbling in funds?
Jerry Morgan: As has already been said, we have never lost a client to an investment fund. This is a sector that is under pressure with the changes that will take effect from January 1, 2022. For those who want to opt for investment funds, the process will have to be rushed, and, according to the opinion of more restrictive lawyers when reading the new law, you will have to file it by the end of August 2021. The growth in this area has been great, it is true, but note that so far only 68 GV applications have been confirmed under this route.
It will be a kind of last rattle for this modality because I do not think they are competitive enough to fight products that are in the EUR 280,000-350,000 range. In any case, there is no doubt that the real estate sector will continue to be a top dog.
If you would like to know more about Mercan's services, working with Mercan, the Portuguese Golden Visa, or the best investment opportunities available within Portugal, contact us directly at jason@mercan.com 
Interested in contributing a sponsored feature? Email us on cn@imidaily.com and see all our promotional options here.